Spotlight: Jessie Grignon Tomas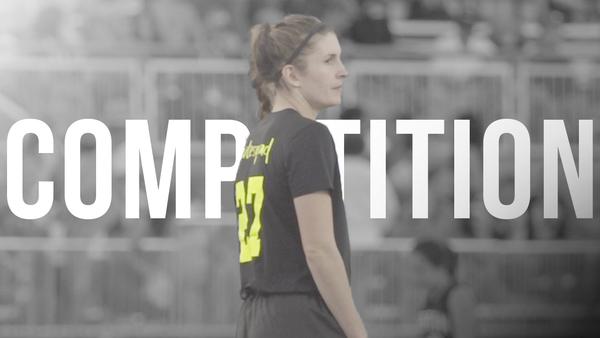 "I think I love competition, period. I love going above myself; I love the stress of each competition."
That love and need for competition has driven Jessie Grignon Tomas to great lengths. Already an award-winning athlete and ultimate player, Jessie joined the Boston Brute Squad in 2018. The team was a formidable force, having won back-to-back national championships in 2015 and 2016 and taking the silver medal in 2017. But this was not an insignificant choice for Jessie, since playing with the USAU team meant driving 11 hours every weekend to attend practices and games. It was a commitment to not only the team but the competition as a whole. 
The Brute Squad was more than lucky to have her. When Jessie joined, she had already medaled in her home country's national tournaments five times and in international competitions four times. In 2015 Jessie had been selected as Quebec's athlete of the year. 
The match seemed perfect, and in 2018 it was.
"I love to give 100 percent of myself, and when a team gives itself 100 percent to me, it really motivates me."
Going undefeated in the regular season, the Boston Brute Squad breezed their way into the finals, where tragedy struck. A player landed on Jessie's ankle and fractured it. She couldn't walk more than two steps, let alone play, and the season that looked like a miracle run ended with defeat in the finals. 
"Her positivity has always allowed her to look forward."
The devastating defeat did nothing to slow Jessie's love for the sport and competition. World Ultimate Club Championships teammate Audrey St-Arnaud had witnessed Jessie's unrelenting drive before.
"It's really inspiring for players here in Quebec . . . She's showing us that anything is possible when you put the work in."
By the 2019 season, Jessie was back and better than ever. With a team dedicated to her, and her dedication to the team, the Brute Squad made another run for the championships. A victorious comeback was all that had been on Jessie's mind for a year, and in 2019 she got it. 
The Boston Brute Squad won the 2019 USAU National Championships.
"I had never experienced so many emotions like this, and I never had the chance to play on a team like this one."