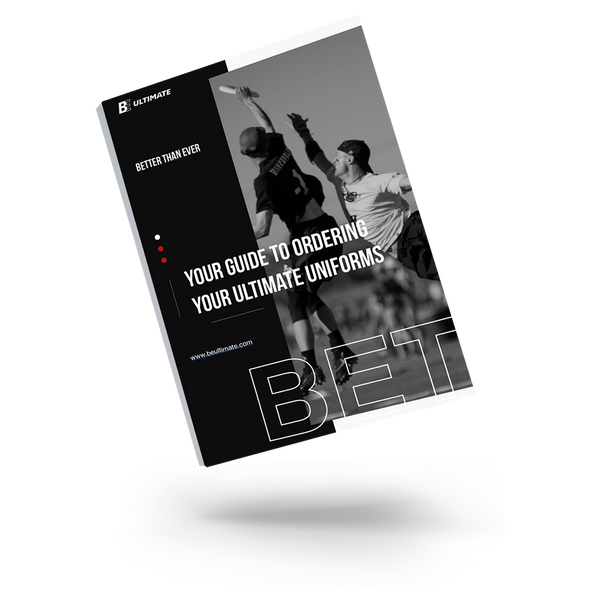 Your guide to ordering your Ultimate uniforms
We know that ordering uniforms can be daunting, and it's often difficult to even know where to start. We've built this guide for you to reference as you go through the process.
Before your start
There are three major areas to focus on before you start designing your uniforms:
Questions

Do you want your gear to perform game after game, represent your brand/team's identity, and/or conform to tournament requirements?
What's your budget like?
Are you looking for a large selection of swag, just a single jersey per player, or somewhere in between?
Ensure you leave enough time for ordering. Our turnaround time is five weeks for production, but getting in touch as early as possible is the key to success.
Choosing your product mix
The first step is to determine what your team wants in terms of gear. How much gear do you need/want? Why do you want it? Will you need warm-up apparel or sun protection? Would team socks, hats, or pants be good for your team?
If you need help selecting a budget, style, or function, you can reach out to us by filling out our Get Started form.
Learn more about the product ranges
With so many options available, it can be difficult to determine which products are right for you and your team. Below you'll find a breakdown of our product ranges that cover most of what is available on the market today.
N-Series
If your team is a touring or college team, you will need a high-performing garment. Because of this, we highly suggest our N-Series line. For teams that play multiple games a day in some of the most challenging conditions, it is important to have jerseys and shorts that are built to perform and can go the distance.
If you are playing in conditions such as high humidity, moisture, or heat, the specs you should focus on are:
Fabric weight: 135 gsm (N-Knit) and 85 gsm (N-Weave);
Fabric structure: semi-perforated knit (N-Knit) and flat woven (N-Weave);
Stitching style: three-needle, five-thread flatlock;
Fit: athletic;
Sizing adjustments: Tailored to Fit capabilities;
Our N-Knit and N-Weave materials are unlike any sublimation fabrics on the market today. These high-performing fabrics, with the ability to customize each garment's fit through our Tailored to Fit service, make the N-Series the best range of jerseys and shorts for players in need of high-performing gear.
To learn more about the N-Series or to see the product range, view the collection here.
Taïga
Our Taïga line is similar to sublimation fabrics available from other brands on the market. It is softer and silkier but does not have the same performance qualities that our N-Series offers.
If the cost and handfeel of the gear are more important to your team than professional-level performance, then the Taïga line is a great choice. Some specs to look out for while considering the Taïga line are:
Fabric weight: 145 gsm;
Fabric structure: flat knit;
Stitching style: standard serge;
Fit: standard/loose;
Sizing adjustments: none;
To learn more about the Taïga line or to see the product range, view the collection here.
Custom extras
Now that you've decided on your main kit, the next step is to see if your team's branding could be expanded through any custom extras. Adding these products to your collection is super easy and can also make you eligible for further discounts. To order custom extras, contact your customer service rep. A few things to consider when choosing which custom extras are right for your team are:
Questions

What is the primary purpose of the custom extra?
How versatile is the custom extra?
For example, you may be looking for warm-up pants that perform really well but can also be used as travel pants for when it's time to jump on a plane for a tournament. The same logic can be used to select sun hoodies, socks, hats, and more!
The main goals of your custom extras should be to:
Build a brand for your team that extends beyond the field;
Enhance the team's performance by making practical items available to players;
Provide a chance for your teammates to purchase versatile and high-performing gear at a group/discounted rate;
Browse our selection of custom extras to see the different amounts of branding that are available for each product and to see what each product is built for:
Examples

N-Knit Sun Hoodie, Pivot Pant 2.0, Enduro Socks, FlyLite Hat, SoftFlex ¼ Zip;
Minimum orders
Often an overlooked topic, minimum order quantities for each garment may come back to bite you if they are not considered upfront.
Our minimum is 6 pcs for any initial order, whether sublimated or embroidered.
For reorders, our minimum is 1 pc, and your price per unit does not increase. The only extra charge you can expect to see for the 1 pc is the unit shipping charge.
Some companies say that their minimum reorder quantity is 1 pc, but their pricing is much higher for that one piece. Be aware of this before starting your first order so that you're not caught paying more than you should when reordering later in the season or the following year.
Picking the right mix for your team
Now that you've learned more about the product ranges, their purposes, and which ones would work well for your team, it's time to select the items you want to make available to your team.
Budget
This is likely the largest roadblock that teams face when it comes to purchasing new or updated gear. Budget will always play a role, but there are decisions you can make along the way to not only make your budget go farther but also potentially grow your budget.
If you have any budgetary concerns, get in touch with your rep. If you don't have one, fill out the Get Started form, and we will get in touch with you within one business day.
Here are a few things to discuss with your rep to make your budget work for you:
Switching full sub items to basic sub;
Bundling and adding products from custom extras;
Agreeing to social media posts and testimonials;
Signing a multi-year agreement with BE Ultimate;
Stretching your budget is great, but it is also important to increase your budget by increasing your revenue. Some strategies that are easy to implement and that BE Ultimate can help with are:
Hosting replica or fan stores online;
Purchasing and reselling high-margin products;
Printing sponsored logos on kits;
To learn more about these options, get in touch with your rep.
Branding/identity
Your gear is going to be your voice to the world, your teammates, your recruits, and your opponents. Your gear, if done correctly, should personify your team and be aligned with your values, not only in terms of which products you choose (performance-oriented or not) but also the design abilities of each product. Browse our product ranges to get an idea of which items can be paired well together, but be sure to get in touch with your rep for help deciding which products will personify and align with your team's values.
Tournament requirements
Obviously, tournament and organizational requirements are very important to be aware of. Depending on which league or governing body you play under, each will have their own rules and regulations.
For USAU (championship play only):
Your team must have at least two jerseys of distinct colors;
Back numbers (on the jersey) are required to be at least 6" tall;
Front numbers (on the jersey) are required to be at least 4" tall;
Accessories such as hats or socks must be solid black or coordinated with one team uniform color;
For Ultimate Canada:
Your team must have at least two jerseys of distinct colors;
Back numbers are required to be at least 6" tall;
Front numbers (on either the shorts or jersey) are required to be at least 2" tall;
If you are unsure about anything in terms of design and regulations, be sure to speak with your rep and make them aware of which leagues you are playing with. They will be able to guide you in the design process to ensure that the numbers, names, etc. are up to regulation standards.
Designing your gear
The next step is designing your gear. At BE Ultimate, the best ways to do that are to either use our Design Realization Process or to design the kit yourself. People without design experience are generally recommended to use the Design Realization Process. More experienced individuals can try designing their gear by themselves, but be aware that you can always start the Design Realization Process at any point.
Design Realization
The document
If you would like to follow our Design Realization Process, begin by downloading our Design Realization document. It includes several questions that will prompt you about any design ideas you have, including colors, themes, fonts, and logos. Try to be as specific as you can—the more detail you provide, the quicker our design team can begin creating your design exactly how you imagine it.
Tips:

Include a sketch of the design, even just on a scrap of paper;
Try to minimize the number of people involved in the design process, and know that you're never going to please everyone! Pick one or two captains to be involved in the process, and trust that we'll keep you on the right track. There is nothing more difficult than trying to run a design through a large committee or full team.
The design call
After you've filled out the Design Realization document, the next step will be to book a call with your sales rep. During the call, the rep will review the Design Realization document with you to ensure that when our designers put stylus to screen, they're truly bringing your vision to life. After the call, the design team will produce the first mockup/iteration.
The realization/iteration process
Our designers will do their best to bring your design to life, but sometimes tweaks or changes still need to be made. Included for free with our Design Realization Process is the ability for us to implement one set of changes. Feel free to submit up to 10 changes to the design mockup in an email to your sales rep. The only condition is that all your desired changes are addressed in ONE email. If the design process starts going "back and forth," additional fees may be incurred, so keep that in mind! (Our designers generally charge $40/hour after the free iterations.)
Design templates
The templates
If you're confident in working with Adobe Illustrator or want to take on the challenge of designing your gear yourself, download our templates and start designing. When designing yourself, here are some tips: - Make use of the guidelines in the template. These will show you the suggested placements for names, numbers, logos, and more. - Be sure to include any fonts that you have used when sending us the files. You can find a host of font packages online for free on sites like dafont.com or 1001freefonts.com.
Submit
Once you've finished designing your gear, feel free to share them with your sales rep. If you don't have a rep yet, fill out our Get Started form, and we'll get in touch with you within one business day. Once you've shared your designs with your rep, they will either deem your design "good to go" or will suggest that it be cleaned up by a professional designer. If your design needs to be cleaned up, your rep will submit it for edits and should have it back to you for approval within a few days. After the digital designs are approved, the next step is to start ordering.
Design Marketplace
If you're looking for inspiration or would prefer to select a pre-made design, feel free to browse our Design Marketplace.
All of the designs in our marketplace are ready to go—we can customize the colors and/or team logos to make the design unique to you, but the base is ready to go, meaning the time it takes to receive your gear will be even shorter!
Choosing colors
BE color chart
One of the key elements of your design is color. To ensure that the gear you receive is exactly what you envision, you should request a color chart from your sales rep. If you don't already have a rep working with you, fill out our Get Started form.
When selecting your colors, be sure to match the color from the BE color chart to an existing garment. Sometimes small blocks of color can be deceiving when trying to estimate how they will look when printed on a whole jersey! If you have any questions about colors, be sure to ask your rep for assistance.
Pantone matching
If you don't have a BE color chart or need to keep in line with your school or brand's specific Pantone colors, feel free to send those over to us as well. We'll be able to match the colors for you.
Printed Panels
To ensure that you receive exactly what you envision, the final step is for you to confirm the pre-production printed panels. Because digitally displayed colors don't typically appear the same as printed colors, we print out, transfer, and then photograph your design. This process also consists of setting up your design for full-scale production/printing, so we will additionally request one final confirmation of all the design elements' sizings, placements, and colors.
Process
After placing your order for production through either a Google order sheet or a Team Collection, your sales rep will send you the first iteration of the printed panels along with the Printed Panel document. If the panels are to your liking and good to go, simply fill out and sign the Printed Panel document. If, however, you'd like to make any changes, simply convey those recommendations to your rep. They will send you a revised set of panels or digital designs to confirm, and the document can be signed and returned at that point. A digital signature is acceptable for the Printed Panel document.
Tip:

If you're having trouble signing the document, take a screenshot on your phone and sign it after that!
Ordering your gear
There are two ways to place your team order: online Team Stores and Google order sheets.
Online Team Stores
This is the preferred method of ordering for most teams. Online Team Stores take all the worry of handling funds, sizing information, Tailored to Fit information, and more out of your hands without removing your oversight and control.
Uploading the Team Collection
After choosing a product mix and confirming the designs, your rep will upload your Team Collection to our website and provide a collection link that you can share with your team.
Any alterations to the Team Collection should be made before sharing the link with your team to avoid any mis-orders.
The pricing in the Team Store will reflect the final pricing, including group shipping.
For any team orders under 12 pcs, there may be a separate charge for shipping that your rep will inform you of.
Collection updates/reports
Before the Team Store closes, we give you a summary of the items your team members have ordered. Our Captain's Report is laid out so that it is easy to search for individual team members and to see which numbers have been ordered so far.
Closing the Team Store
Once the Team Store close date has been reached, or once you see that everyone has ordered (through our Captain's Report), your rep can close the Team Store for you. After this point, no more changes can be made to your orders, and your gear will begin production. The next step is to wait for your printed panels.
Changing numbers, sizes, or order details
We are frequently asked to change the number, name, or size of an item. If you need to do so, contact your rep, and they will be able to refund the item so you can reorder it with the correct specs.
Google order sheet
The trusted, but old-fashioned, Google order sheet is useful for teams that don't mind collecting funds, sizing information, and name/number information. This option allows the manager/captain to have full oversight and to make any alterations before the order is placed.
Sharing the Google order sheet
After selecting your product mix, you can request an order sheet from your rep. Filling in the Google order sheet Simply fill in a row for each player's order: enter their name, number, sizing, and fit information.
Closing the Google order sheet
Once you are ready to place your order, inform your rep that you have completed the order sheet, and they will lock the spreadsheet. Your order will then be ready for production, and an invoice will be sent to you for the entire amount, including shipping. The next step is to confirm the printed panels.
Producing your gear
Week 1 – Confirm printed panels
Once your designs are confirmed digitally, we will begin our Printed Panel Process. This intermediary step allows you to see exactly what the finished product will look like, eliminating any surprises when you receive the gear. We'll need your confirmation to proceed into full production.
Week 2 – Print items
Once the printed panels have been confirmed and your order has been submitted, full production will begin. Your designs will be printed onto large rolls of your selected jersey fabric. The designs fuse with the fabric, and the two become inseparable, preventing fading, cracking, and peeling.
Week 3 – Cut and sew
The next step is to cut and sew each product. Each item is laser-cut to the correct size and then stitched together—flatlocked, serged, and overlocked where appropriate. This stage is where the small details are added, such as adding locker hoops on the back of the neck and trimming excess threads as close to the fabric as possible.
Weeks 4/5 – Quality control and shipping
Finally, each product is thoroughly examined to ensure that it meets our Quality Standards. Once approved, the gear will be shipped to the location you set with your rep. They will provide a tracking number and updates as they become available so that you know exactly when your gear will arrive.