Hamber Takes Provincials || #taigachamps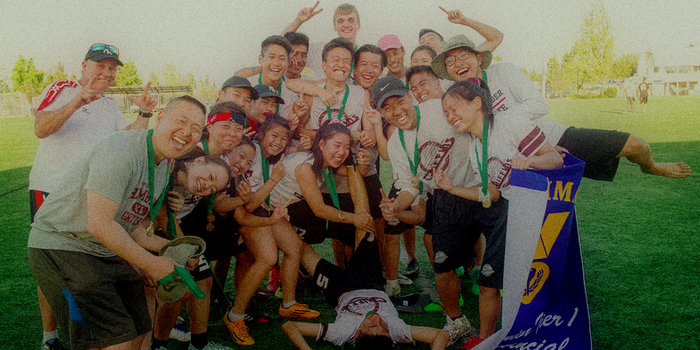 Eric Hamber, a high school in Vancouver, BC, won their first ever senior provincial championship on May 28.
Hamber, who has a total of five teams at their school, has been growing their program for the last 15 years. When Graham Dunne arrived at Hamber as a teacher, there was no ultimate program.
He started by adding it into the curriculum for the gym classes that he taught and before long other teachers started to incorporate it in as well. Ultimate grew in popularity at Hamber with a budding intramural program and the first team, coached by Dunne, who finished ninth in their first ever appearance at provincials and took home the spirit trophy.
Although Dunne has taken a step back from coaching and now coordinates the program, winning provincials has been a long time coming.
"It's been 15 years in the making," said Dunne. "In the last few years it's come on really fast. Suddenly it feels like we're winning everything—I think we're probably the most successful school now, it's very rewarding."
Dunne credits a big part of Hamber's success to players returning as coaches after they graduated. This year, the senior team was led by Alex Yang, a previous graduate of Eric Hamber.
"Before I graduated from Hamber, I already had the thoughts of coming back to coach," said," said Yang. "I'm not sure what triggered it but I knew I wanted to stay involved with the program at Hamber."
For Yang, winning provincials this year was mind-blowing.
"The team I coach consist of mainly all grade 11's and we only had four grade 12's. Therefore, this team was supposed to be a two-year plan, we weren't expecting to win anything this year but really go for it the next year," He added. "However, things were accelerated greatly and we were able to take the City championships and the Provincial championships in the first year playing in the senior level together." 
In addition to the anticipated future, success from the senior team, one of the three junior teams at Hamber is made up of all grade eights and has already competed at Spring Reign and at provincials.
"I put them into tier two provincials, which had 16 teams, and they finished fifth," said Dunne. "That grade eight team is a team that really has the most potential out of any team I've ever seen."
The Junior A team at Hamber has also been extremely successful this year having won the junior city championships and finishing second at junior provincials. Many of the athletes on this team will look to join the senior team with the hopes of winning another provincial title next year.



This provincial championship win is only the start of what is sure to be a highly dominant future for the Eric Hamber ultimate program.
PHOTO CREDIT: JEFF BELL