THREE DESIGNS, THREE STORIES | PART 2: Vénus Ultimate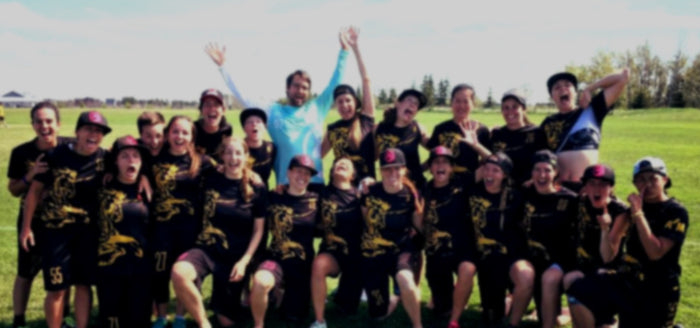 Taïga presents the second part of the series 3 teams 3 designs, where we explore how our customers use design in their teams.
The women's team Venus Ultimate was created almost by accident during a party where conversation (as well as a few choice drinks) were flowing. It was the night of Coup de Foudre, in Sherbrooke, now three years ago. New projects often start because of the desire to provide a definitive solution to dissatisfaction or an inconvenient problem. Marie-Michèle Bélanger and Lauren Hunt shared the idea that a competitive ultimate team would perform only with a vision of long-term player development. They also hoped to create a team where each player would find a unique team spirit, develop confidence and play a role.
This was a daunting challenge because Montreal's ultimate women's competition was a competitive, political and not always flexible one. However, in just a few days, attracted by the vision and values, enough players committed themselves to come to the open tryouts of the new team. Suddenly, the project came to fruition. The project leaders then recruited Elizabeth Defoy as a player but also as a remarkably effective logistics specialist. They also added Alex Timothy as a coach.
The rest of this story is well known. Venus starts in the summer of 2015 and wins the provincial championship the following year.
From the inception of the team, leaders have always clearly communicated their vision and values ​​while remaining on course without being distracted. This approach is also reflected perfectly in the design process and the use of uniforms, logos, and other graphic elements that serve to embody and promote the vision and values ​​of Venus Ultimate. Aware of the importance of involving the team in the process, the captains nevertheless managed to maintain a clear guideline in order to avoid an endless debate.
So they approached Pat Pham with a clear vision, well-defined values ​​and a good open-mindedness. The designer had then the free field to condense these notions in the design of the uniforms. Uniforms that the players would be proud to wear in tournaments, excited to contribute to a team that resembles them and that brings them together.
---
Need a helping hand for your team design?
Simply answer our short design form and we're going to take care of you.
---
A third summer of competition is promising for Venus. The name of the team and its brand went around the community and became rooted in it. Marie-Michèle and her group were able to demonstrate the viability of their solution. So the team joined the women's program. Integration takes place slowly and cautiously, but everyone agrees that Montreal's competitive women's ultimate team is a winner if all players are brought together under the same ideology. The future will tell us if the program managers will be able to put in place the sharing of good practices and knowledge while optimizing the strengths of the teams.
We will end this note simply by wishing a wonderful summer to Venus Ultimate and thanking them warmly for trusting Taiga to make their uniform!
PS: You would like to share your story? Let us know!