Three Designs, Three Stories || University Part 2: University de Montréal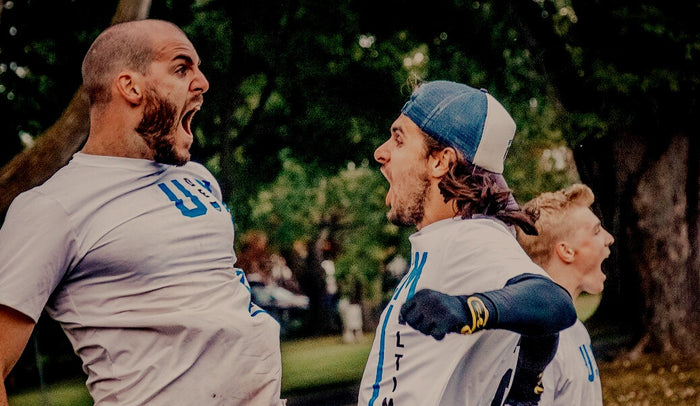 Université de Montreal's ultimate club had a new look this season, as a large influx of new players filled out two open teams and one women's team and launched a successful fall season.
André Arsenault's first year as head of the program in 2015 was a joint effort with
Concordia and UQAM as the teams pooled players to practice and compete, but this season the clubs became autonomous and UdeM built on a strong recruitment push to launch the team's most successful season yet.
With a good mix of experienced and newer players on the men's and women's teams, UdeM took on the fall tournament series.
"That's always the goal of our program, to introduce players to the sport and help them see the competitive side of ultimate," Arsenault said.
On the men's side, Cédric Aubut-Boucher coached a mix of experienced competitive players and talented rookies to a first place finish at the Quebec Cup and a run at the Canadian University Ultimate Championships
"At the end of the season we wanted UdeM 1, our open team, to take part in the 1st division for CUUC," Arsenault said.
With Laval University having qualified already for Quebec, UdeM needed to get through Friday's qualifying round to be included in CUUC I, made up of the top eight teams. They came up just short, with a one point loss to their Montreal rivals McGill, who went on to qualify.
The team finished the season on a high note, winning CUUC II later that weekend with a 13-8 victory over Sherbrooke.
The women's team, coached by Simon Vervaet, Marie-Andrée Pambrun and Alexandra Paillé, finished in sixth place at CUUC II after a solid season that saw several new players get their first taste of competitive experience.
"The coaches did an amazing job. We saw a couple of players improve a lot during the season," Arsenault added.
The whole team ordered jerseys with Taiga in preparation for the fall season.
UdeM knew they wanted to use their school colors and shield, and Taiga was able to incorporate that on the jersey. The design inserted the logo in between the U and M of UdeM and placed the whole design front and left to emphasize the vertical stripe running down the side.
"We knew right away we wanted to go with Taiga because we wanted something local and I knew the products were good," Arsenault said.
"I sent the logo provided by the university, and they did a couple of designs and we chose one. It was pretty easy."
Looking ahead, the leadership team, which includes Louis-Éric Lemire and Jean-François Morin, hopes to continue the club's strong presence at the university and continue to grow next season.
PHOTOS: Gaetan Dussault