Three Designs, Three Stories || University Part 1: U Laval Open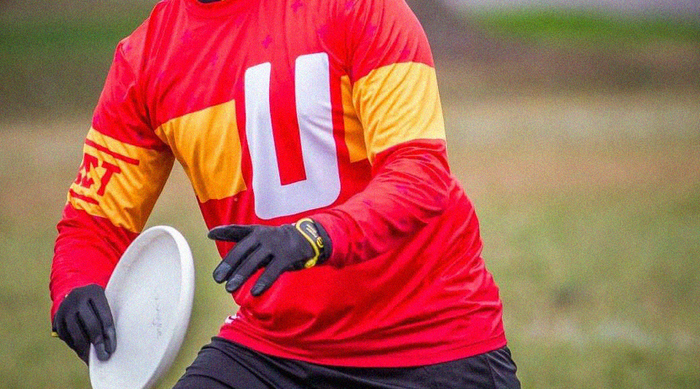 Building a university ultimate program that is nationally competitive takes dedication, patience, and typically features some setbacks in what is a long road to the top. To a casual observer, ULaval's ultimate program seemingly went through this process overnight. Their men's team went from being largely unheard of on a national scale to being a dominant presence in the university circuit; culminating in a bronze medal last fall at the Canadian University Ultimate Championships in Montreal.
For coordinator Félix Marceau, this was not an unexpected turnaround. After taking over the project and seeing a level of interest among the players, as well as some small success' in past seasons, he spent the summer scouting graduating cegep players with competitive experience along with other talented individuals. Through this, Marceau was able to build a deep roster headlined by Montreal Royal players Francis Vallée, Gabriel Monfette, and Miguel Goderre.
"When you think about Laval University, the first thing you think of is Rouge et Or, the football team," Marceau said. "They're really strong, they're big, they're nasty, and they always win. So I thought 'Why don't we have an ultimate team at ULaval like that at that level?'"
With their ideal roster in place, the team started the season cautiously optimistic. "Our goal was to get a spot for CUUC," said Vallée, the team's offensive captain.
But after coming out strong in early season tournaments and leapfrogging established programs like McGill and Sherbrooke to emerge as the clear top team in Quebec, the mood changed.
"Throughout the season we got a lot better, our practices were really effective. We thought that McGill and Sherbrooke would give us tighter games, but as the season went on it became easier to play against them," Vallée said.
"Our goal switched and it became to finish the season as the best team in Canada."
The team fell short of that goal with a 14-7 loss to eventual champion Queen's University in the semi-finals at CUUC, followed by a 9-8 victory over Manitoba to secure third place. This was no small accomplishment for the upstart Quebec team, and club leadership is looking forward to building on their achievements this coming fall.
The team's branding and jersey design play an important role in promoting an identity and team culture. Marceau credits Mathieu Pesant with coming up with the jersey design that utilizes Laval University's recognizable red and gold colours which Taiga then produced as long-sleeve jerseys for the team.
Vallée loved the feel and attitude the jerseys gave the team. "For our first tournament we just wore red t-shirts, they looked super ugly and we felt like we had no identity. When we received the jerseys we felt for the first time like a real team."
"It gave us a lot of confidence. The first time we went out for warmups the other team was looking at us and we felt like they were saying 'Oh, this team looks serious'. It made us look more professional."
For Marceau, appearance is a big part of continuing to grow the program. "We want visibility and want to be seen by everyone. We spent a lot of time on how we look. We want to look really professional and good looking because we want people to come play with us, and we want to be an example in the university series."
The team has continued their commitment to looking good, unveiling a new, black long-sleeve design for their two teams of all-stars that took first and fourth in the open division of the 4v4 University Classic, hosted by the Royal.
In addition to setting their sights on a gold medal at CUUC next season, Marceau and the ULaval leadership committee are trying to propel university ultimate to a new level in Quebec. They are hoping to model themselves, in part, after the college ultimate scene south of the border. In the United States, they see the advantage in which college ultimate often serves as a developmental pool where players play at a high level before entering club programs.
The team eventually hopes to receive official recognition by the school in order to take advantage of the benefits offered to student-athletes.
"To get accepted by the university, we have to offer something," Marceau said. "We want access to practice fields, gym space, and other advantages, but we have to give them something in return.
"We want to go get medals and start a tradition of excellence."
PHOTOS: Gaetan Dussault