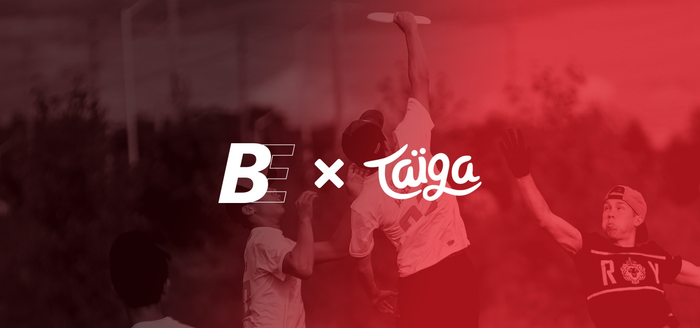 We are very proud to announce that we are joining forces with BE Ultimate! 
Here is what you need to know..
Q: What happens to Taiga?
A: Taiga Ultimate will become BE's Made-In-Canada product line. In the short term:
- Taiga's website will continue running but will transition to BE's new platform by the beginning of summer
- We will integrate our processes with BE's to offer you the best experience
- Our team is fully integrated with BE's.
Q: What are the New Products?
A: BE is at the forefront of designing new products for ultimate players and we are so excited to be able to offer the latest and greatest swag. 
Q: How do we Place Orders Now?
A: Placing orders will remain the same for the near future. Contact the Taïga or BE person that you know, or go to our websites.
Q: Where is BE Ultimate Located? 
A: As we join forces we are able to utilize our team's strengths. This will help us to grow in all areas! Our headquarters are based in Vancouver but we have team members in Toronto and Montreal. We also, provide bilingual service in both English and French.
Q: Better than Ever?
A: Above all, we are pushing ourselves to give you the best products and ordering experience. Never settling and always innovating.
Follow our new venture by subcribing to BE's newsletter and to their social media channels:
BE's website : https://www.beultimate.com/
Facebook: BE Ultimate
Instagram: @be.utimate
Twitter: @BEulti
---
About BE Ultimate
We are Ultimate players making Ultimate gear for the Ultimate Community.  What started as a motivational line – a mantra for training and practice – has become a guiding principle of daily practice for the company. In its truest form, the line "Better than Ever" serves to remind, inspire, and motivate us to be our best selves. 
About Taiga Ultimate
Taïga Ultimate set out to create ultimate uniforms 100% made in Montréal and to deliver an amazing experience to our customers. Our team is laser-focused on outstanding service, simple processes, and a minimal carbon footprint.