Pivot Pants 2.0 | Ultimate Québec Quick Fall 2023
I had never ordered BE. I got a pair of joggers to support my college team. They're the best piece of ultimate apparel I've ever had. Thumbs up. 5 stars
Pivot Pants 2.0 | Arizona State University Prime Spring 2023
Great quality, yet too long
Love the material and quality so much. However, they are a few inches too long. I wear 32x30 pants and got medium. They are snug on the legs (which is nice), but I definitely wouldn't go a size down.
Pivot Pants 2.0 | Ultimate Québec Quick Fall 2023
The Pivot Pants 2.0 are designed specifically for Ultimate players. Built from a warm yet breathable polyester-spandex knit fabric, they will stretch and move with you even on the widest of pivots. Subtle details such as the tapered leg, small and durable ankle zippers, and groin-targeted gusseting allow for style, function and comfort to meet.
250 GSM
Tapered Leg
Targeted Gusseting
Ankle Zippers
Material: 88% polyester, 12% spandex
>
Technical French Terry Fabric
Soft, breathable and durable.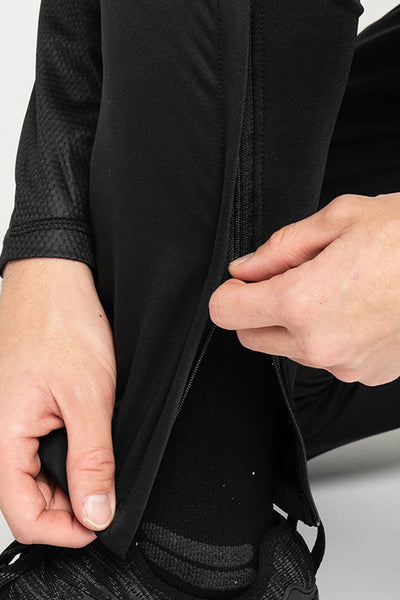 Tapered Leg

A streamlined, low-profile fit ensures these pants do not get in your way when you're training or playing.

Targeted Gusseting

Groin-targeted gusseting grants mobility and flexibility for stretching and lunging, perfect for training or warm-ups.

Ankle Zips

Our extremely durable ankle zips allow for easy dressing over cleats to give you freedom on the go.

Embroidered Customization

Embroider these pants with your team logo and individual numbers.